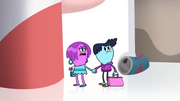 The "Unnamed couple" are a couple who appeared "The Toddler". They were the first to see Sylvia and Wander walk out of the candy store with Huckleberry Knucklehead, and the woman uttered "Ugh, we are never having kids" in shock.
Physical Appearance
The woman has pink skin and magenta hair, and she wears a light blue dress and flats. She also has blue eyes.
The man wears a purple hoodie, black jeans and brown shoes. He had blueish-black hair and black eyes.
Appearances