The Robomechabotatron
Season:
2
Production code:
221a
Broadcast number:
77
Story by:
Craig McCracken
Francisco Angones
Todd Casey
Amy Higgins
Sam Riegel
Noelle Stevenson
Written by:
Sam Riegel
Storyboards by:
Dave Thomas
Directed by:
Dave Thomas
Broadcast Information
Disney Channel US Premiere:
TBA
Disney XD US Premiere:
June 20, 2016
International Debut:
TBA
See more...
Wander must convince Sylvia, Hater and Peepers to work together with him to control an ancient giant robot.
Episode Summary
[1]
I'll call my new planet whatever I want!

This article, transcript, or section is incomplete and needs to be completed. Any user is obliged to do so. (July 18,2017)
Transcript
For a full transcript of The Robomechabotatron, click here.
Songs
None
End Credits
Gallery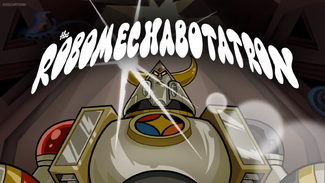 The image gallery for The Robomechabotatron may be viewed

here

.
Memorable Quotes
Background Information
Trivia
Dominator's ship can transform into a giant robot.
It is revealed that Peepers is multilingual, as he can understand Japanese.
A running gag is that Lord Hater keep saying the Robomechabotatron name wrong.
Ironically after trying so hard to convince the others to work together as a team, Wander ends up being the one not being a team player as he didn't want to use Robomechabotatron for fighting.
This episode MAY have been a reference for VOLTRON or Power Rangers/Super Sentai.
Continuity
Robomechabotatron would later be brought up as a suggestion by the Lost and Found Guy to stop Dominator in The End of the Galaxy, which is proven useless when Sylvia says it got blown up.
Twice, Wander sings the line "Sure seems like we're becomin' friends!" as a reference to My Fair Hatey.
Allusions
The entire episode is a parody of giant mecha anime.
The Episode is mostly based on Power Rangers.
Production Information
International Premieres
Errors
TBA
Background Information
TBA
Cast
References
http://tvlistings.zap2it.com/tvlistings/ZCProgram.do?sId=EP01767744&t=Wander+Over+Yonder&method=getEpisodesForShow&desc=on