"The Family Reunion"



Sylvia promises her mother that she will take care of the galaxy

Season:
2
Production code:
214a
Broadcast number:
64
Broadcast Information
Disney Channel US Premiere:
TBA
Disney XD US Premiere:
Febuary 22, 2016
International Debut:
August 8, 2016 (Disney XD UK and Ireland)
See more...
"
You wanna meet my family?
"

— Sylvia
Wander and Sylvia hide out from Dominator's forces with Sylvia's family.[1]
Episode Summary
After yet another failed attempt to set Lord Dominator up with Lord Hater, Wander and Sylvia attempt to flee lasers being shot from Dominator's ship. Sylvia, deciding that she is tired of running away from Lord Dominator, proceeds to advance towards the ship screaming "I need a break". Miraculously, the two escape unharmed. Wander denies Sylvia's request to leave until she offers to let him meet her family.
On Sylvia's home planet, Wander becomes fascinated by the surroundings and its inhabitants before arriving at Sylvia's home. Here, Sylvia's brothers, Bill, Phil, and Gil, are delighted to see their sister again, although her mother Dorothy is all but pleased to see her daughter. She instead has her put some groceries away.
Later on, Sylvia's family sits on the couch to watch TV, only for Dorothy to request Sylvia's help preparing dinner. Wander takes this time to get to know Sylvia's brothers, who are more interested in arguing about what species he is, which leads to a fight.
In the kitchen, Sylvia attempts to converse with her mother, having left years ago without saying anything, but Dorothy ignores her by repeatedly turning on the blender each time she speaks and tasking her with peeling vegetables. She then has Sylvia leave the dinner table to bring butter, rendering her unable to eat any dinner after her brothers begin roughhousing again.
Retreating to her bedroom, Sylvia again declares "I need a break" and attempts to escape from the house through a window, only to be stopped by Dorothy. The two have an argument, which turns into a third fight once Sylvia's brothers get involved. Deciding that he's had enough, Wander calls a family meeting in the living room, where he attempts to make peace between Sylvia and Dorothy, to no avail. Eventually, Sylvia apologizes for leaving, only to learn that Dorothy is angry with Sylvia for returning.
The reason Dorothy had been salty towards Sylvia is that she was disappointed in her for giving up when Lord Dominator began taking over the galaxy. Heartfelt by her mother's words, Sylvia promises to take care of the galaxy and Wander ends the episode by sharing a hug with Sylvia's family.
Transcript
For a full transcript of The Family Reunion, click here.
Gallery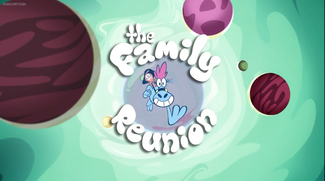 The image gallery for The Family Reunion may be viewed

here

.
Memorable Quotes
Background Information
Trivia
The galaxy that appears at the beginning of the show's opening theme briefly appears in this episode.
It is revealed that Sylvia left home without informing her family, although it is never explained why.
This is the third episode Wander is actually angry. ("The Box", "The Toddler")
This is the second episode Wander uses the show's off-color words, not counting Angry Wander in "The Wanders". ("The Toddler")
A line by Sylvia's mother implies that her father may be deceased.
Several articles show the pictures from previous episodes:
A portion of "Your Happy Birthday Song" was heard briefly when Sylvia offers Wander to meet her family.
Continuity
Wander asking if there's a salad while Sylvia's brothers eat meat ties in with the fact he's a vegetarian as revealed in "The Battle Royale".
This episode further implies that Wander is homeless, as answering Phil's question of where he lives as "Wherever the stars take us." This was also implied in "The It".
Errors
Allusions
The Golden Girls — Sylvia's mother is named Dorothy, which is the name of the lead character on the show, and her species was previously announced as "Zbornak", which is Dorothy's last name. Sylvia also calls Dorothy "Ma", like how Dorothy calls her mother Sophia.
Production Information
This is the first episode to premiere on Watch Disney XD before television since "The Rider".
Cast
Sandy Martin as Dorothy
Rob Riggle as Bill
Ken Marino as Phil
Brian Callen as Gil
Laraine Newman as Gram (uncredited)
References