The Bad Neighbors



Peepers breaking up the fight

Season:
2
Production code:
216b
Broadcast number:
68
Broadcast Information
Disney Channel US Premiere:
TBA
Disney XD US Premiere:
March 7, 2016
International Debut:
None
See more...
"
I may have lost the galaxy, but I am not gonna let some dumb-wad neighbor mess with my turf!
"

— Lord Hater
Peepers desperately tries to come up with a plan to save the galaxy from Dominator, while Hater obsesses over their jerky new neighbor, Emperor Awesome. [1]
Episode Summary
While hiding out on Suburbon 5, Commander Peepers tries to come up with a plan to defeat Lord Dominator. Lord Hater, however, is more concerned with his neighbor's leaves blowing onto his front lawn. Against Peepers' advice, he heads across the street to voice this minor grievance, only to discover his neighbor is Emperor Awesome. Awesome has somehow escaped from Dominator's grasp, possibly during/after the events of "My Fair Hatey" (though he now cringes in post-traumatic fear when he tries to mention her), and has also gone into hiding, much to Hater's displeasure. Before they can fight, however, Peepers intervenes and forces them into a ceasefire. But while Peepers struggles with a plan, Hater and Awesome compete to be the best house on the block, from building rock gardens to playing loud music.
Transcript
For a full transcript of The Bad Neighbors, click here.
End Credits
Hater shooting his hand lasers at Awesome's leaves.
Songs
Gallery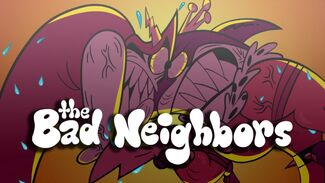 The image gallery for The Bad Neighbors may be viewed

here

.
Quotes
Commander Peepers: Nothing! We have nothing! No power! No planets! No plan! Dominator's obliterating the entire galaxy, and I have no idea how to stop her!
Lord Hater: And she won't even go on a date with me!
Commander Peepers: With all due respect, sir, we came to Suburbon 5 to lay low. Dominator would never look for us in this boring cul-de-sac, thus making this the perfect place to hide while we formulate a plan to save the galaxy so that we can take it over again.
Commander Peepers: Sir, is this one of those things where you obsess over something to cover up the real issue?
Lord Hater: Of course not! I Just refuse to be publicly humiliated by Dominator. I mean, Dumb-i-Neighbor - our dumb neighbor. That's it.
Commander Peepers: And there it is.
Lord Hater: RAAAAAHHH!!!
Commander Peepers: NO!! NO RAH!! YOU ARE GOING TO SIT DOWN, SHUT UP, AND BEHOLD MY ULTIMATE PLAN TO STOP DOMINATOR!!!
Trivia
Errors
When Hater first sets the volume of the speakers for his guitar, he sets the volume to 11, but when he goes to readjust the volume after Emperor Awesome opens his garage, the volume is set to 10.
Allusions
The entire episode is likely a homage to sitcoms, complete with a laugh track.
Production Information
International premieres
References
Cast